Cookbook on a Budget: Ruby Tandoh's Glorious COOK AS YOU ARE
Not one but TWO recipes for your weeknight dinner needs
This is the second installment of Cookbook on a Budget, where I share not-expensive entry points to books I love. Check out the first installment, on Via Carota's Onion and Bread Soup, here. These posts will always be free for everyone. If you want to support my work, please consider upgrading to a paid subscription, or sharing this post with someone you think will enjoy it.
Last year Ruby Tandoh, a food writer, cookbook author, and former GBBO contestant, started posting recipes from her latest cookbook, Cook As You Are, on Instagram. These weren't photos from the book—it doesn't contain any—but from her own kitchen, which has less streaming sunlight and fewer curated props than the professional and/or airbnb kitchens commonly used for cookbook photo shoots. 
Take one photo carousel: pot of onions and carrots on the stove; a haphazardly smashed head of garlic, still clinging to its mesh holder, with a nearby cookbook held open by an unmarked canister; steaming pot; opened jars of peanut butter and honey, garishly lit by phone flash; finished soup brought into the sunlight; screenshots of the recipe. In the book it's a carrot, lemon, and tahini soup, but Ruby didn't have that last ingredient and used peanut butter instead. I have no respect for recipes, least of all my own, she wrote. This feels like a good thing - if you're feeling bold enough to make substitutions then you're probably feeling confident in the kitchen.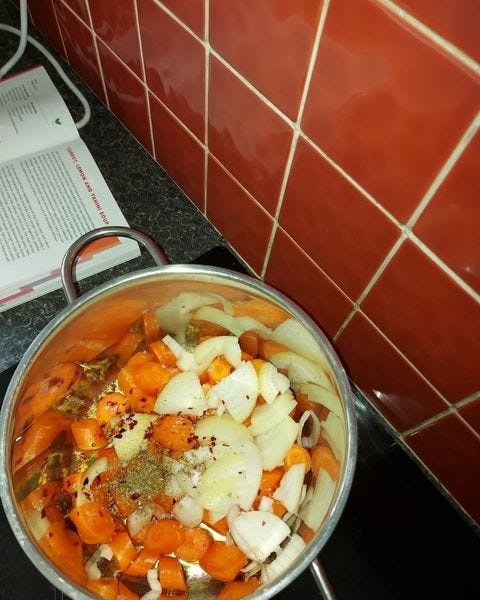 More recipes from the book followed, with the same lighting and haphazard styling, and I followed along with glee. What a relief to see a cookbook author share something not driven by idealized visuals—though I'm quite jealous of her red-tile backsplash—so publicly, when her peers are posting perfectly lit, aspirationally "messy" photos of galettes or whatever. (Guilty!) This was actual home cooking, not a simulacrum. So much of the delicious food we make for ourselves at home is, as Mattie Lubchansky recently wrote in a recent newsletter, "completely un-photographable", and I'm always glad when people celebrate it as such.
Reading and cooking from Cook As You Are offers the same relief, the same hope. The book, as I've said, replaces photos with illustrations, both of dishes and of people. These are meant to make the book more inclusive, and they do, but there's also something almost journal-like about them, the soft roundedness of the arms and bodies. Instead of the inspiring but often alienating food photography we're used to, they make the book feel like something created in a home, not a studio. 
The book's introduction begins with the reminder that No two people cook alike. Obvious, of course, but it quickly assures the reader that Ruby is not here to turn us into cooks in her image, but to offer suggestions as to how we might continue to become the ones we already are, or are trying to be. The book's subtitle Recipes for real life, hungry cooks, and messy kitchens echoes this insistence on reality and anti-aspiration. Recipes are divided by urge and desire: "feed me now", "more food, less work," and so on. It's more important to judge a recipe's success, Ruby writes, by its flavor rather than how it compares to a professionally retouched photo. 
The book hinges on accessibility, offering tips, recipes, and even whole chapters geared towards: vegetarians, vegans, those shopping on a budget, those cooking with limited energy or mobility. Ruby also makes earnest and generous efforts to acknowledge the cuisines, writers, and recipes that have inspired and informed certain dishes and chapters, a gesture that speaks to how home cooking and recipe writing really happens: not in a vacuum of genius, but as part of a global history of people heating and chopping and seasoning things in order to feed themselves, their families, their employers, their guests. All this looseness, all this anti-auteurism, can make you feel like a recipe is just an idea, and it is—but that doesn't mean it doesn't need all these formal bells and whistles, weights and times, allowances and backstories. (This is, of course, my issue with the 'no-recipe' format.) These recipes are not just suggestions but gifts that hope to be adopted into your home. 
I began with the Eden Rice with Black Beans and Plantains, in part because I am constantly thinking I should eat more rice and beans but not acting on it. I was having Louie over for dinner a month or two ago, and figured this could be a cute option: healthy but exciting, virtuous but comforting. The rice is green! And Ruby bakes some easy multitasking into the recipe: get your rice cooking, pop the plantains in the oven, and then refry some black beans. As usual I got started a little late, which meant Louie got the privilege of flipping the plantains gingerly with a fork as I finished off the saucy beans. I biffed the rice a bit—used way to small a pot—but we still ended up with something great, an elemental dish turned transcendental with a few small details. 
Last week I set out to make the leek and miso pasta, then had a small tantrum because I realized I didn't actually have any of the titular miso at home. All of the recipes in CAYA include substitutions at the end, an exhaustive offering of ways you can make each dish. And while Ruby assures the reader that you can use white miso in lots of different things and that it's a great kitchen staple and that she even uses it in her lentil stew, she finally caves and says: you can also use a tablespoon of dijon mustard. Dejected but soothed, I tried this—adding in some fresh rosemary and lemon zest too—and it was, somehow, the best pasta I had eaten in weeks, maybe months. Reminded me that sour cream should appear in more pasta recipes. The next day, stubborn and still hungry, I bought miso and made it right. That second time came out subtle but rich, the miso offering a savory backbone that does a surprising amount of heavy lifting.
One thing I love about Cook As You Are is that its recipes land just at the edge of my wheelhouse. Most offer a new perspective on dinner I'd never come up with myself, but one that doesn't require buying ten things at the store or two hours in the kitchen. It feels like living with someone else's well-stocked pantry for a few days: why don't I keep halloumi and chutney and frozen meatballs on hand at all times? The book meets me where I am, and then leads me eagerly, generously, patiently, to new ideas.
There's something warm and shareable about it too, in that reading through it made me immediately want to share it with others. I sent Lindsey a photo of the olive oil cake, Jamie a photo of the sauerkraut and caramelized onion pasta. When I retested the beans and rice it became the ideal centerpiece for pre-existing dinner plans, and I sat around the table picking at sticky plantains with Blythe and Steph, lazy and happy. You get the sense that Ruby is the sort of cook that cares for people through food, that cooks for others, and understands the rhythms of that sort of cooking: bits of work that can be finished when people arrived, a pan of plantains a fried can flip while gossiping. The book is already warped with my use, the miso pasta recipe stained from supporting the bottom of a pasta pot. Tonight, as a belated birthday gift, I'm making myself cookie pie.
---
Eden Rice with Black Beans and Plantain
Slightly adapted from Ruby Tandoh's Cook As You Are
Serves 4
For the rice:
1 ½ cups (300g) white rice
10 ounces (300g) frozen chopped or whole leaf spinach, defrosted
1 ¾ cups (400 ml) cold water
2 teaspoons olive, vegetable, or coconut oil
4 garlic cloves, crushed or finely grated
1 bird's eye (Thai) chili, thinly sliced, or ½ teaspoon chili flakes
Generous pinch of salt
For the plantain:
3 ripe plantains, yellow-mottled with plenty of black spots
1 tablespoon olive or vegetable oil
1 tablespoon chipotle paste
Pinch of salt
For the black beans:
2 tablespoons olive or vegetable oil
1 large onion, finely diced
4 garlic cloves, crushed or finely grated
1 teaspoon dried oregano
1 bird's eye (thai) chili or ½ teaspoon chili flakes, optional
Two 14-ounce (400g) cans black beans, drained
2 teaspoons chipotle paste 
4 tablespoons salted peanuts or cashews, roughly chopped
Scant 1 cup (100 ml) water, plus more if necessary
Salt, to taste
Special equipment: stick blender, food processor or blender, optional
Preheat the oven to 400°F.
Rinse the rice thoroughly in cold water, changing the water a few times until it's no longer cloudy. Drain the rice well and set to one side.
In a food processor or blender, or using a stick blender, blitz the defrosted spinach with the 1 ¾ cups (400ml) water. If you don't have a blender, skip this step! The rice won't come out as vibrantly green, but it'll taste great all the same.
Heat the oil for the rice in a medium pot—one large enough to cook the rice with a good bit of room, but not so large that the rice will cook in a really thin layer—and add the garlic and chili, sautéing it over a medium-low heat for a minute or so. It's ready when the raw garlic smell mellows a little, but make sure you don't let it brown and burn. Add the washed rice, spinach puree (or unblended spinach and water) and salt to the pot, stir well to combine, then bring to a simmer. As soon as it begins to boil, put a tight-fitting lid over the pot, turn the heat as low as possible (it helps to transfer the pan to the smallest burner if it isn't already on it, and cook for 15 minutes. Once the 15 minutes are up, turn off the heat but leave the lid on, letting the rice steam in the residual heat for 5 extra minutes. It'll stay warm like this until you're ready to serve it.
While the rice cooks, peel the plantain (cut off each end, score the skin along the plantain's length with a sharp knife, then pull the skin off like a coat) and cut on the diagonal into elegant slices around ½ inch thick. Toss the slices with the oil, chipotle paste and salt, then lay out on a baking sheet. (MB note: lining your baking sheet with parchment will make cleanup a lot easier.) Bake for 10 minutes, then flip the slices and bake for a further 10 minutes.
Next up, make the beans—this is a really quick job. Heat the oil in a medium pan, then add the onion and cook over a medium heat for 6-8 minutes, until softened. Add the garlic, dried oregano, and chili (if using) and sauté for a further minute or so. Add the drained beans, chipotle paste, peanuts or cashews and a scant 1 cup water. Cook for 5 minutes, stirring often and mashing the beans against the side of the pan or under a spoon or spatula as you go. You want the beans to be broken and creamy, but there should still be plenty of whole beans to provide a craggy texture. If the beans start to dry out, add a splash more water. If they're too sloppy, just cook for a bit longer. Season to taste.
By the time that the beans are ready, the plantain should be just about ready to come out of the oven and the rice should have cooked and had its 5 minutes of resting time. Serve the beans heaped over the bright green rice and top with the golden, smoky plantain.
MB note: Leftover rice is DELICIOUS reheated in a bit of coconut oil.
Variations and substitutions
If you have fresh spinach, you can use it in place of the frozen spinach. Just blanch it (dunk it in boiling water, then quickly whisk it out and place it in ice-cold water to stop the cooking process), drain, squeeze out any excess water and roughly chop it. You can then blend it with the water as above.
As an alternative to plantain, you could serve this with sweet potato or butternut squash. Peel and cut into ½-inch slices, then coat with oil,  spice and salt as above, and bake for 30 minutes, flipping the slices halfway through the cooking time. While I'll admit that it looks similar to plantain (and indeed they are related), banana is not an appropriate substitution.
If you prefer to fry the plantain—like you would for dodo or kelewele—forget about heating the oven and heat 1 ¼ cups (300 ml) cooking oil in a large frying pan instead. Coat the plantain with the chipotle paste (or spices) and salt—no need to oil it. Heat the oil to 350°F and fry the plantain slices for 2 minutes on each side.
If you don't have dried oregano, you can use dried marjoram, thyme or a dried herb mix. Instead of the chipotle paste, use 1 teaspoon smoked paprika and 1 teaspoon chili flakes.
---
Buttered Miso Linguine with Leeks
Excerpted from Ruby Tandoh's Cook As You Are
Serves 4
Salt
4 small to medium leeks
6 tablespoons (85g) salted or unsalted butter
14 ounces linguine
4 tablespoons crème fraîche or sour cream
1 ½ tablespoons white miso
½ - 1 teaspoon chili flakes or ½ teaspoon chili powder, to taste
Lots of freshly ground black pepper
Put a large pot of salted water on the stovetop over a high heat, bringing the water to a boil.
While the water heats, trim your leeks: remove the wiry root end and the very top, where the leaves fade to a deep green and are coarser and tougher than the white and lighter green parts. (MB note: save these in a bag, in the freezer, for stock.) Halve the remaining leek stalk, rinsing well if you see dirt, and cut into finger-width slices.
In a separate medium or large pot, heat the butter over a medium heat, then add the chopped leeks and a pinch of salt. It will look like a lot of butter, but it's vital to this dish so have faith. Stir everything to combine, then put a lid on the pan and let the leeks sweat for 15 minutes, stirring regularly and turning down the heat if they're beginning to brown or stick. When the leek is ready, it should be tender, yielding and slippery. Turn off the heat.
By this point, your water should be boiling. Add the pasta to it and cook according to the instructions on the package. I'd err toward the lowest end of the recommended cooking time—especially in a creamy sauce like this, it's important that pasta isn't too soft. As Marcella Hazan puts it, when overcooked, "pasta becomes leaden, and it loses its buoyancy and its ability to deliver briskly the flavors of its sauce." Once cooked, drain the pasta but reserve a couple of tablespoons of the cooking water. 
Add the drained pasta to the pot with the leeks, then add the reserved cooking water, the crème fraîche or sour cream, white miso, chile flakes and black pepper. Stir everything together over a very low heat, stopping as soon as it's mixed. Turn off the heat and check the seasoning, adding salt if necessary, then serve straightaway.
Variations and substitutions
If you can't eat gluten, gluten-free pasta can be found in most supermarkets. The linguine can of course be swapped for any other long pasta, such as spaghetti, tagliatelle or pappardelle.
I use white miso, or shiro miso, for this dish which is delicate but deeply savory. If you don't have any miso, you can just leave this out! Alternatives to the miso and chili seasoning include 1 tablespoon Dijon or wholegrain mustard, or a generous pinch of nutmeg and 1 ½ teaspoons paprika.